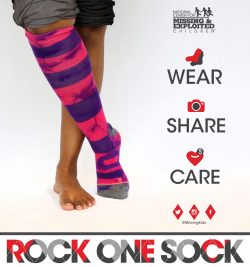 In recognition of Rock One Sock », the Oregon Child Support Program provides the following statistics and resources:
Missing & Exploited Children Facts and Statistics
"Rock One Sock" was created by the National Center for Missing & Exploited Children (NCMEC) ».
"SOCK" stands for Save Our Country's Kids! Join us and "Rock One Sock" to show your support for missing kids!
According to the FBI, in 2016 there were 465,676 reports of missing children made to law enforcement in the U.S.
In 2016 NCMEC assisted law enforcement with more than 20,500 cases of missing children.
In 2017 the CyberTipline » received more than 10 million reports related to child sexual exploitation.
NCMEC has assisted with more than 98,000 requests relating to law enforcement's efforts to locate noncompliant sex offenders.