Helping Those Who Help Others
In addition to helping victims of hate and bias crimes find the resources they need, the Oregon DOJ works closely with law enforcement and service providers to enable them to track hate and bias incidents across the state.
---
Fay Stetz-Waters, Director of Civil Rights and Social Justice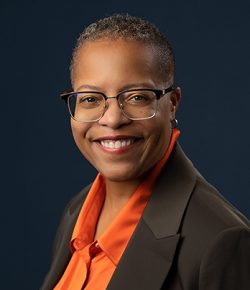 Fay Stetz-Waters is the Civil Rights and Social Justice Director for the Oregon Department of Justice. As the Director of Civil Rights and Social Justice, she is committed to increasing the Department's impact on civil rights issues affecting marginalized and vulnerable Oregonians.
Fay has been a strong advocate for justice her whole life. She enlisted in the United States Marine Corps at age 17, where she worked as a field radio operator. While working as a 911 dispatcher at night, Fay earned a bachelor's degree in history and graduated with honors from Trinity College in Hartford, Connecticut. She attended Lewis and Clark Law School, where she wrote on constitutional issues like marriage equality, transgender rights, and crime victims' rights.
She has also worked as an Administrative Law Judge for the Employment Department, a Hearings Officer for the Parole Board, an Equity Associate at Oregon State University, and as a Circuit Court Judge in Linn County.
Fay Stetz-Waters is available to speak to your group.
---
Suggest a Resource
Do you know of a resource we could be promoting? Drop us a line to let us know.