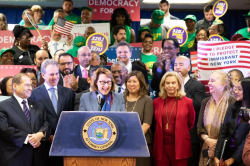 Oregon Attorney General Rosenblum, as part of a coalition of 18 Attorneys General, filed a lawsuit this morning to block adding a citizenship question to the 2020 Census. AG Rosenblum joined New York Attorney General Eric Schneiderman in New York City to announce the lawsuit, which was filed in the U.S. District Court for the Southern District of New York.
"The Census is part of the bedrock of our democracy. The U.S. Constitution guarantees an accurate census be taken every 10 years. Adding a citizenship question to the Census form has a deliberate and intended chilling effect on participation," said Attorney General Rosenblum. "As state Attorneys General we are committed to making sure every voice is heard, and we believe that every person in America counts. Period."
It is estimated that a 1 percent undercount on the 2010 Census would have resulted in less than $23 million in federal funding for Oregon. The complaint filed today specifically outlines that Oregon received nearly $431 million in Highway Trust Fund Grants, $57 million in Urbanized Area Formula Grants, and $39 million in Child Care Development Grants in fiscal year 2015.
Under the Constitution, the U.S. Census Bureau has an obligation to determine "the whole number of persons in each state." Yet demanding citizenship information in the Census is expected to depress participation among immigrants, causing a population undercount that would disproportionately harm states with large immigrant communities. Non-citizens are counted in the Census for the purposes of federal funds, apportioning of congressional seats and Electoral College votes, and the drawing of state and local districts.
The lawsuit is brought under the Enumeration Clause of the U.S. Constitution, as this action by the Trump administration will impede an "actual Enumeration" required by the Constitution. It is also brought under the Administrative Procedure Act, which permits courts to set aside unlawful or arbitrary and capricious agency decisions.
The multistate lawsuit was led by the Attorney General of New York and joined by the Attorneys General of Connecticut, Delaware, Illinois, Iowa, Maryland, Massachusetts, Minnesota, New Jersey, New Mexico, North Carolina, Oregon, Pennsylvania, Rhode Island, Virginia, Vermont, Washington, and the District of Columbia; the cities of New York City, Chicago, Philadelphia, Providence, San Francisco, and Seattle; and the bipartisan U.S. Conference of Mayors.
Full complaint here.