Oregonians Encouraged to Sign the Call to Action
Oregon Attorney General Rosenblum, along with the Attorney General's Steering Committee Against Hate Crimes, today issued an anti-discrimination Call to Action signed by Oregon Governor Kate Brown, Secretary of State Bev Clarno, Treasurer Tobias Read, Labor Commissioner Val Hoyle, and more than 70 community leaders and groups urging Oregonians to support members of the Asian American community who have been targeted during the Covid-19 pandemic. The Asian American community in Oregon and nationwide has reported numerous incidents of discrimination, including acts of aggression and violence.
"At this challenging time, we are coming together in support of our Asian American community, who are our beloved co-workers, neighbors, friends and family. We have zero tolerance for anyone who would discriminate against this community and this is one way we can stand together during this unprecedented pandemic," said AG Rosenblum.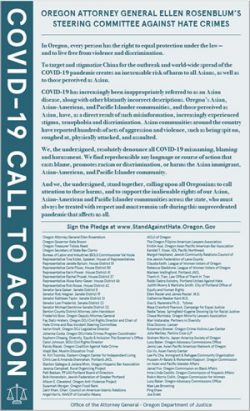 The Call to Action pledge reads: "We, the undersigned, stand together, calling upon all Oregonians to call attention to these harms, and to support the inalienable rights of our Asian, Asian-American and Pacific Islander communities across the state, who must always be treated with respect and must remain safe during this unprecedented pandemic that affects us all."
Oregonians can sign the Call to Action here.
"A chorus of unique voices from around Oregon have signed this Call to Action, united against the hate and horrible rhetoric targeting our Asian American and diverse communities due to Covid-19," said Attorney General Rosenblum. "We will simply not allow hate to thrive here. While we may not be physically present with each other right now, we hope all Oregonians will sign this Call to Action to show support. The Call to Action is a living document to show our solidarity with Oregon's Asian American community."
The Call to Action has been signed by different statewide elected officials, Oregon legislators, members of diverse community groups and other local leaders. It is expected that hundreds of additional Oregonians will join sign their names.
Any member of the Asian American community who experiences bias, or any other victims of a bias or hate incident, can visit the Oregon DOJ's website at www.StandAgainstHate.Oregon.Gov, or call 1-844-924-BIAS (2427) to report an incident and talk with trained staff. Hate and bias incidents are any hostile expression that may be motivated by another person's race, color, disability, religion, national origin, sexual orientation or gender identity. An incident can be verbal, physical or visual.
The Oregon Department of Justice (DOJ) is led by Attorney General Ellen Rosenblum, and serves as the state's law firm. The Oregon DOJ advocates for and protects all Oregonians, especially the most vulnerable, such as children and seniors.