Legal Training Information
2017 Attorney General's Public Law Conference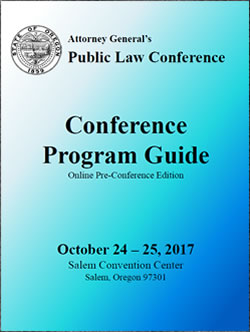 October 24 – 25, 2017 at the Salem Convention Center
The Attorney General will host this year's Public Law Conference for all state agencies at the Salem Convention Center. The conference will include over 44 workshops on essential legal issues, advanced topics and emergent areas of law that directly impact your agency's ability to fulfill its mission. The conference is an efficient and very cost-effective way for state agency employees to receive authoritative legal information and advice from skilled and experienced attorneys and guest speakers.
The Oregon Department of Justice (DOJ) provides public law training for client agencies. We offer a wide variety of courses and workshops that cover legal advice and other useful information. The training is also an opportunity to interact with other state agencies on common legal concerns.
Register Online: 2017 Conference
Conference Materials and FAQ
Conference Registration Fees Per Person
Early Bird
(through July 24, 2017)
Standard
(after July 24, 2017)
Full Conference (2 days)
$220
$280
Day 1 or Day 2 (1 day)
$125
$180
Accessibility and Accommodations
The Salem Convention Center is accessible. If you need accommodations under the Americans with Disability Act (ADA), please contact Bob Koreski, ADA Coordinator for the Oregon DOJ, via email at Bob.J.Koreski@doj.state.or.us, or phone 503-947-4348, no later than September 25, 2017, so that we can make the appropriate accommodations.
Questions
Contact us at 503-947-4540 or email us at LawConference@doj.state.or.us.
---
Software License Training for State Agencies
Registration is now closed for state agency employees.
This course is an introduction to software licensing and related issues.
Presenters will describe basic software licenses and some standard terms and conditions; how state agencies acquire licenses; some basic policies related to state agency software acquisition and necessary approvals, including everyone's favorite: legal sufficiency! The primary focus of the discussion, however, is intended to be on some of the most significant or potentially troublesome terms and conditions and how state agencies may address the legal and business risks. Please bring your questions and concerns!
Date: Thursday, May 25, 2017
9:00 am – 11:00 am
$59.00 per person
Location: Employment Office Auditorium
875 Union Street NE, Salem, OR 97311
This is a live event (no call-in option) and may not be recorded.
---
Free Alternative Dispute Resolution (ADR) Brownbag Workshops
ADR Brownbag Workshops are free and are held from noon to 1:30 pm at the DOJ Robertson Building, 1215 State Street, Salem, Oregon 97301, in the Redwood meeting room. These lunchtime workshops provide an opportunity to meet with your peers and professional ADR Providers to discuss topics of mutual interest. These are live events (no call-in option) and are not recorded.
Classes will be scheduled after the 2017 Attorney General's Public Law Conference (above).
---
Resources for Lay Representatives
ORS 183.457 and OAR 137-003-0008 and 137-003-0545 permit an officer/employee of an agency to participate on behalf of an agency, with DOJ approval.
Rules and Materials
Online Course
You may also be eligible to participate in the online training module through iLearn, "Role of the Lay Representative in the Contested Case" »:
Enroll Online: Lay Representative Course
---
Interested in Learning More?
In addition to the workshops listed above, the Oregon DOJ provides training on a variety of topics in response to client agency requests. If your agency is interested in receiving legal training, please contact your agency's assigned counsel (PDF) » or use the online Training Suggestions & Comments Form » to make a request.