Talk to Us
Whether it happened to you or to someone else, we can all help track sanctuary promise violations.
Everyone has the right to live safely in Oregon.  Oregon's sanctuary laws promise safety, human rights, and dignity for all.
If you or someone you know was targeted in violation of Oregon's Sanctuary Promise laws, please call 1-844-924-STAY/1-844-6-AMPARO or report online at SanctuaryPromise.Oregon.gov or PromesaSantuario.Oregon.gov.
On the Oregon Department of Justice's Sanctuary Promise hotline, you can report a suspected violation, receive support, and be connected to resources. The Oregon Department of Justice may open an investigation into the violation.
Sanctuary Promise Response Hotline
1-844-924-STAY (1-844-924-7829)
Spanish Direct Line: 1-844-626-AMPARO (1-844-626-7276)
Operators are standing by
9am to 5pm Pacific time, Monday – Friday.
Interpreters in over 240 languages.
After hours? Leave a message and we'll return your call.
We Accept all Relay Calls.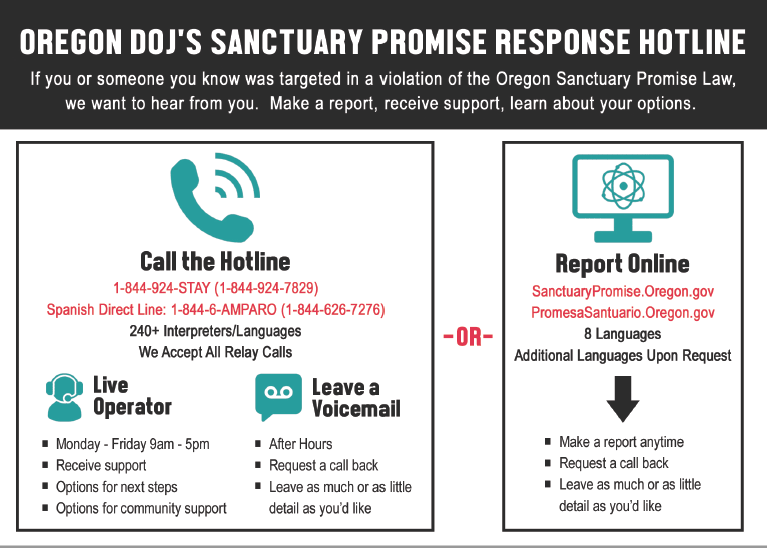 You can report to us online any time:
Since 1987, Oregon has officially been a sanctuary state that supports immigrant and refugee communities by prioritizing human rights, dignity, and safety.
The Sanctuary Promise Act », signed into law on July 19, 2021, strengthens the existing state sanctuary laws. It restricts the collection and prohibits sharing of information related to a person's national origin, immigration or citizenship status. Oregon state and local public resources and personnel, including state and local government offices and law enforcement agencies, are prohibited from being used for immigration enforcement.
If you suspect a violation of Oregon's sanctuary laws, we want to hear from you.  Suspected violations can be reported through this online portal (available in 8 languages by using the language menu in the upper righthand corner of this screen) or the Sanctuary Promise Hotline at 1-844-924-STAY (1-844-924-7829). Call us in any language.  We have a direct access Spanish language website at PromesaSantuario.Oregon.gov with a Spanish direct dial hotline at 1-844-6-AMPARO (1-844-626-7276).
To report ICE activity in the community, contact Portland Immigrant Rights Coalition, PIRC » at 1-888-622-1510.
Examples of violations to Oregon Sanctuary Promise Laws include:
Investigation or interrogation by police for immigration enforcement purposes;
Most inquiries, storing, or sharing of information about national origin, immigration or citizenship status by police or state or local government;
Civil arrest without a judicial warrant/order from a court facility;
Arrests by federal immigration of a person on their way to or from court or while at court;
Police collaboration with federal authorities for immigration enforcement purposes;
Denial of services, benefits, or privileges to a person in jail or on probation/parole based on immigration status;
Police establishing coordinated traffic stops or traffic perimeters to enforce federal immigration laws; or
State or local government or police failing to document or report requests from a federal immigration agency relating to immigration enforcement;
How your data is stored, protected, and used on the hotline (click for more information).