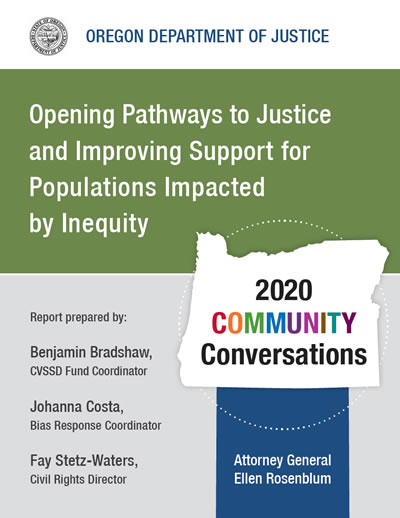 We are pleased to release the Summer 2020 Community Conversations Summary Report: Opening Pathways to Justice and Improving Support for Populations Impacted by Inequity.
In July and August of 2020, DOJ's Crime Victim and Survivor Services Division (CVSSD) and Civil Rights Unit convened our second annual Community Conversations roundtables with people from communities impacted by inequity who wanted to share experiences of interpersonal and/or systemic hate, bias, and discrimination. Throughout our 12 Summer 2020 Community Conversation sessions, participants requested that we provide a summary report of information shared and takeaways for service needs around the state; this information has been outlined in our summary report.
We are grateful for the energy and contributions from community members and service providers.  We are eager to move these issues forward and work to improve services in DOJ-funded victim and survivor service programs so that all people are well and appropriately served.  We appreciate your interest in these efforts to improve victim and survivor services for all in Oregon.
Our Summer 2020 Community Conversations included population-specific sessions for the following communities:
LGBTIQA2S+
Religious Minority
Latinx
Black/African American
Asian and Pacific Islander
Undocumented/Migrant Farm Worker
Houseless/Mental Illness/Addictions
American Indian/Alaska Native
Deaf and Hard of Hearing
Disabilities
Refugee/Immigrant communities
Future Community Conversations will include separate sessions for Asian, Pacific Islander, Blind and Low Sight, and people of color communities more broadly.
We anticipate holding our next series of Community Conversations in Spring/Summer 2021.  Please contact us at Community@doj.state.or.us with any questions.