Oregon is Leading the Fight Against Hate
Hate crimes are on the rise, both in Oregon and nationally. It is up to all Oregonians to make sure that everyone is safe in their community.
What is a Hate and Bias Incident?
A hate and bias incident is any hostile expression that may be motivated by another person's race, color, disability, religion, national origin, sexual orientation or gender identity. The act does not need to be a federal, state or local crime.
Examples of Hate and Bias Incidents
Hate and bias acts can be verbal, physical, or visual. This language and behavior often contributes to, or creates, an unsafe or unwelcoming environment. Some examples include:
Name calling; using a racial, ethnic or other slur to identify someone; or using degrading language.
Creating racist or derogatory graffiti or images/drawings.
Imitating someone with a disability, or imitating someone's cultural norm or practice.
Why Should I Report?
While hate and bias incidents sometimes target specific individuals, they often violate an entire group or community's sense of safety and belonging. Graffiti on the wall, fliers, anonymous emails and language meant to harass individuals convey intolerance that impacts all of us. We want Oregon to be welcoming and inclusive.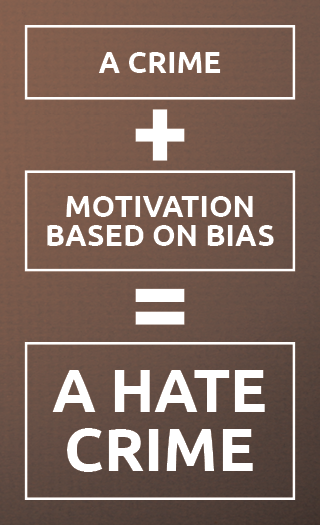 Report and Support
The "Report and Support System" is designed to help us track hate and bias incidents, and where the incident took place. We want to:
Support survivors who have witnessed or been the target of hate and bias-related incidents.
Refer survivors to services that can help.
Inform Oregon's legislature, governor, law enforcement and community about the extent of the problem.
Download the Official Documents
Share Your Story
If you believe you have been a victim of bias – even if you aren't sure it rises to the level of a criminal complaint – please report it.
Report a Hate and Bias Incident
---
How is Oregon's New Hate and Bias Crimes Law Different?
Focus on the Victim
We're changing the way we respond to hate and bias crimes by creating a service-driven, culturally competent system of response for all victims.
Gather Good Data
We're improving the way we track hate and bias incidents by requiring data collection that includes all levels of bias activity.
Rename the Crime
We're modernizing our "Intimidation" statute and calling hate activity what it is: a Hate and Bias Crime. And we're including gender identity as a protected class.